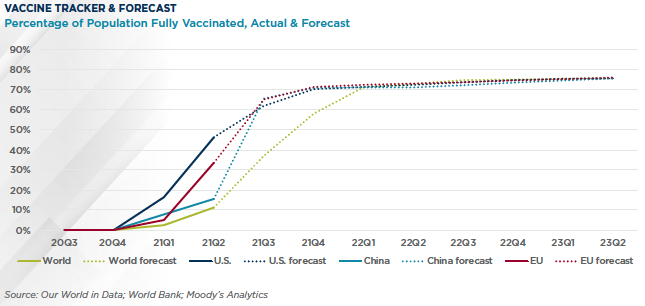 Predicting the return to the office:
We are nearing 2 years since the start of the Covid-19 pandemic and a year and a half since California implemented lockdowns that forced many of our businesses to close and/or work remotely. Over the last few months, as vaccination rates have increased and covid cases dropped, we have seen more businesses and offices reopen, but not to full capacity as of yet. So we ask ourselves, when? When do we see ourselves returning to the office and returning to what was once our "normal" routine?
One of the key variables in predicting the return to the office is the trajectory of the virus itself. Currently, the Delta variant of the COVID-19 virus continues to spread throughout the world. That said, there are also clear indications that the world is making significant progress towards achieving herd immunity, and there are certain countries, such as India and France, where the Delta variant appears to have peaked. In analyzing data from the World Health Organization, the virus surged in both countries for 6-8 weeks before trending downward. States like California and Louisiana have shown this trajectory as well, where the pandemic curve appears to be bending in September right around the two-month mark as the WHO data suggests.
The other variable, vaccinations rates, have been a cause for increased optimism and consumer activity throughout this year. While these vaccines are less effective in combating the Delta variant, they still reduce the risk of infection by 66% (down from 91% when combating the pre-Delta strain of COVID-19) according to the CDC. At the current rate, most of the world will achieve herd resiliency (over 70% either vaccinated or infected) Q2 2022. Herd resiliency will be achieved first in Canada (Q3 2021), followed by the U.S., Europe, and China all in Q4 2021. Of course, that is if we follow current rates. As of early September 2021, just over 200 million Americans—that's slightly more than 62%—have been fully or partially vaccinated. A total of 378 million vaccine doses have been administered. If the U.S. continues to average 700,000 to 800,000 doses per day as it has been in September, herd resiliency will be achieved sometime in the fourth quarter of 2021.
Who's currently at the office?:
In April 2020, as the first wave of COVID-19 began impacting the U.S., office utilization dropped to less than 20% of its previous use. Since then, in-office attendance has steadily increased when new infections fell to lower levels and decreased when new infections spiked. The vaccination programs started in December 2020 but became more accessible to the general public in March and April 2021. As vaccination rates increased, employees began to return to the office in larger numbers. Employee occupancy hit a peak of 35% in late July but receded slightly as the Delta variant spread in August. As of September 15, 2021, in-office attendance sits at an average of 34% across 10 markets tracked by Kastle Access Control Systems. It is important to note that employees are coming back to the office to a greater degree in markets that are less dense and where government regulations have been more limited. For example, three Texas cities are at or above 40%, while San Francisco is at 21%.
In the last few weeks, a growing list of companies has delayed their return-to-work policies. Some have planned minimal delays targeting October. Many other companies have pushed their timelines out, targeting January 2022. For example, banking and financial firms mostly fall into the first category, many of them making news in 2021, publicly stating a commitment to in-office work post-pandemic. These institutions have almost unilaterally been communicating a shorter delay and are expecting to resume frequent in-office work in Q4 of this year. In a market analysis conducted by one of our clients, Cushman Wakefield, it is concluded that most office workers globally will be able to return to the office in the first quarter of 2022.
Of course, nothing is written in stone, as the incoming Winter season could push back a full return to the office and normality. When it comes to cleaning and disinfecting, companies are being held to a higher standard than ever before, and as winter approaches so does the yearly cold and flu season, in which viruses and bacteria-causing illnesses return. Safety is a top priority for everyone and understanding how cleaning can contribute to a healthy environment has never been more important.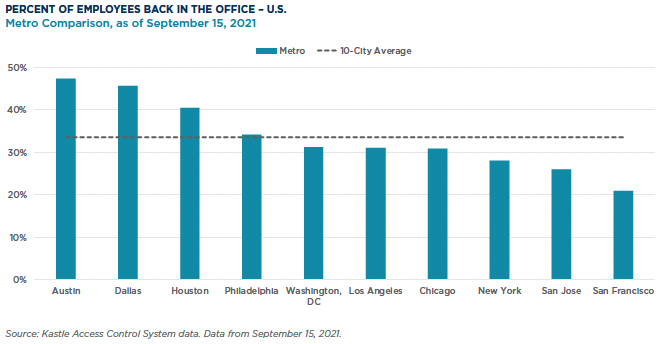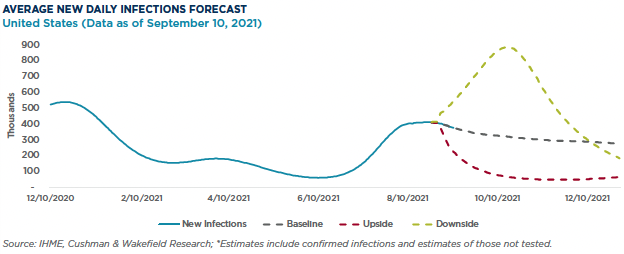 Protecting your space:
With 29 million Americans contracting the cold and flu each year, not counting Covid infections, employers have become acutely aware of how the cost of illness in the workplace generates additional healthcare expenses, creates a loss of productivity, and reduces the overall well-being of employees. A study by the Integrated Benefits Institute states that employers spent over $50 billion on employees' poor health from April 2020-2021, which is a 117 percent increase from a previous analysis conducted April 2019-2020, a year that covers pre-pandemic employee health to the start of lockdowns. For every dollar of the almost $950 billion spent on healthcare benefits, another $0.61 of productivity is lost to illness and injury. Days with illness-related absences which led to "lost productivity" totaled almost 1.5 billion days annually for all employees, and cost employers $3,900 per employee. With flu and cold season right around the corner, it is especially pertinent to emphasize the relationship between sick days and the cost of loss of productivity through 2021, demonstrating the need to keep employees healthy for the well-being of themselves and their employers. Sick employees will cost businesses more than just sick pay.
As more employees go to work each day, it is paramount that business owners have a cleaning and disinfecting plan in place to prevent viruses and bacteria-causing illnesses and provide employees with a clean and safe workplace. A clean and safe workplace is the expectation of every worker, and Servico Building Maintenance is proud to protect your business, employees, and clients with industry-leading cleaning and disinfecting services. Servico Building Maintenance has the technology available to clean and disinfect businesses and facilities of all kinds. When the need for additional disinfecting arises, Servico's Covid-19 Disinfection system provides an additional level of protection.
For more information regarding this topic please visit the CDC website.
Mailing
P.O. Box 25
Glen Ellen, CA 95442